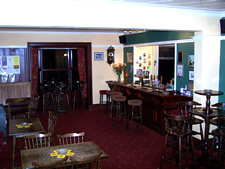 he Cumberland has an award winning bar, open all day every day. Voted 2009, 2010 and 2011 pub of the year by the Solway CAMRA Branch, we came runner-up in the Cumbria Pub of the Year 2009. We have now been in the CAMRA Good Beer Guide for 9 consecutive years.
We are proud to offer Yates Bitter as our house Bitter and "guest" Real Ales from award winning local breweries such as Mordue, Allendale, High House Farm, Hesket Newmarket, Barngates, Geltsdale and many others. Real Cider from the Jug, Stowford Press Cider, John Smith's, Guinness, and 2 draught lagers are also available. A full range of soft drinks is also on offer. An extensive range of Malt Whiskies and wines, alongside the usual range of quality spirits and mixers complete the range of drinks available.
The 'Lounge Bar' serves bar meals through the week and Roasts (with various options) on Sundays. A popular spot for locals on a Sunday Lunchtime and ideal for those passing through Alston.
Our Patio overlooks the South Tyne Valley which provides a spectacular backdrop on warm sunny evenings.